King Richard III (A Guided Walk in Leicester)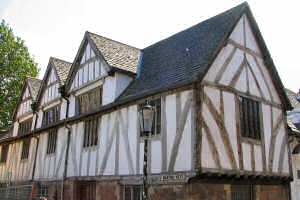 "King Richard III" is one of the famous Guided Walks in Leicester devised and led by Blue Badge Guide Colin Crosby, of Colin Crosby Heritage Tours.
These walks are an excellent way of learning some Local History.
This one looks at the places in Leicester associated with Richard III. This tragic and much maligned young king spent his last night in a bed in Leicester in 1485, was killed in battle a few miles away near Market Bosworth, and was brought back to Leicester for burial.
As the world now knows, his remains were sensationally discovered at the Greyfriars in 2012.
Colin has been leading "Richard III" Guided Walks in Leicester since 1994.
Dates, costs and where to meet
A place on 'King Richard III' costs £6.00 per person, or £5.00 if paying in advance. The guided walk begins at Richard III Statue, and is running on:
I'm sorry, but there are no plans to run this event at present.
If you would like to book a place on one of these dates, please telephone Colin on (0116) 2611576 or email him at colin@crosbyheritage.co.uk.