Belgrave Gate (Leicester)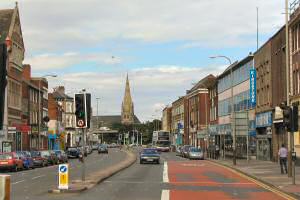 Belgrave Gate is one of Leicester's oldest streets.
It follows the line of the Fosse Way, the Roman road that ran from Lincoln through the Cotswolds to Exeter.
The word "Gate" should not be taken to imply that there was a gateway anywhere along it. "Gate" is an old Danish word meaning "street". Several East Midland towns, including Derby, Loughborough, Newark and Nottingham, have streets named in this manner, as the area was over a thousand years ago under Danish control.
Belgrave Gate leads to the old village of Belgrave if you follow it for far enough.
On one side of the street is one of the entrances to the Haymarket Shopping Centre, opened in the 1960s, while there are a number of well-known High Street stores on the other side.
Mary Linwood lived at a house in Belgrave Gate in the 19th century. She was an eminent needlework artist, who had a permanent exhibition in London and was much honoured, even receiving a medal from Napoleon.
Where is Belgrave Gate?
View a map showing the location of Belgrave Gate.
Press the 'Back' button on your web browser to return here.