Belgrave Gate (A Guided Walk in Leicester)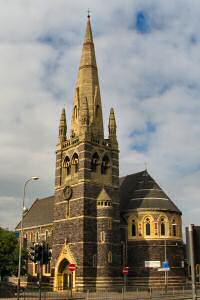 "Belgrave Gate" is one of the many Guided Walks devised and led by the well known Blue Badge Guide Colin Crosby, of Colin Crosby Heritage Tours.
These walks are a delightful way to soak up some Local History.
Belgrave Gate is a major artery leading out of Leicester towards the North, and is on the line of the famous Roman road, the Fosse Way.
It was also part of the Danish settlements outside Leicester`s Town Wall, the word "Gate" being a Danish term meaning "street".
The road leads to Belgrave, once an independent village. Along the way it becomes the Golden Mile, famous for its Indian restaurants, jewellers and sari shops, as well as the fabulous Diwali Lights.
Dates, costs and where to meet
A place on 'Belgrave Gate' costs £5.00 per person, or £4.00 if paying in advance. The guided walk begins at Clock Tower, and is running on:
I'm sorry, but there are no plans to run this event at present.
If you would like to book a place on one of these dates, please telephone Colin on (0116) 2611576 or email him at colin@crosbyheritage.co.uk.