Cheapside (Leicester)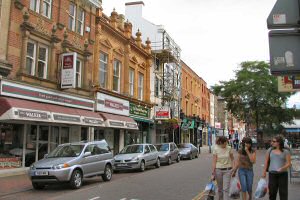 Cheapside is an ancient street in Leicester City Centre.
It runs from what is usually believed to be the High Street (but is actually East Gates) to the Market Place, the largest covered one in Europe.
The street name indicates that it is leading to a market. Probably the most famous Cheapside is the one in London, which was the largest market area in the capital, with streets denoting particular trades, such as Bread Street, Milk Street and Ironmonger Lane.
We use the same word "cheap", to mean inexpensive, and the various towns around the country prefixed by "Chipping", such as Chipping Camden, Chipping Norton, Chipping Ongar and Chipping Sodbury, indicate that there is, or was, a market there.
Cheapside in Leicester contains a pillar from the old High Cross, similar to the Butter Cross at Mountsorrel, which once stood in High Cross Street.
There is a fragment of the Angel, Leicester's leading inn in mediaeval times. Mary Queen of Scots spent the night here on her way to her execution at Fotheringhay in Northamptonshire.
Today, Cheapside is a busy street with plenty of places to buy food, including the famous Leicester pork pies made by Walkers.
Where is Cheapside?
View a map showing the location of Cheapside.
Press the 'Back' button on your web browser to return here.