Cross Green (Rothley)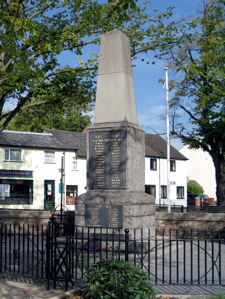 Cross Green is at the very centre of Rothley, where North Street, the road from Birstall and Leicester, becomes Mountsorrel Lane, leading to Mountsorrel and Loughborough.
There is a War Memorial in the centre of the recently reordered green, recording the names of the Rothley men who gave their lives in two World Wars. Beside the War Memorial is the bus shelter, and across the road is the fish and chip shop which has an excellent county-wide reputation.
Much of the street furniture around Cross Green is decorated with crosses. This refers to the fact that Rothley was an important centre in the Middle Ages for the Knights Templar, a religious body of knights who were formed to protect pilgrims travelling to the Holy Land.
The Knights Templar chapel is still in existence.
Rothley has a place in literary history as the birthplace of the eminent Victorian writer and historian Thomas Babington Macaulay in 1800.