Canterbury Castle (Canterbury)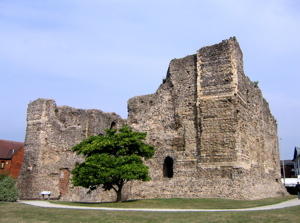 Canterbury Castle is a surprisingly little known feature of the vastly historic cathedral city of Canterbury in Kent.
The keep stands just inside the inner ring road, which follows the line of the mediaeval City Walls.
William the Conqueror built a motte and bailey castle in Canterbury in 1066, after Canterbury had been the first major town to surrender to him.
The motte survives, and is now known as the Dane John.
The stone castle was built about 1100, and fell into disuse about 1600.
At one time the castle suffered the indignity of being used as a storehouse for coke.