Christ Church Gateway (Canterbury)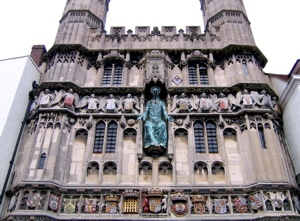 The Christ Church Gateway is the main entrance to the magnificent Canterbury Cathedral, in the historic old city of Canterbury in Kent.
The gateway was built by Henry VII, as a memorial to his son Arthur, Prince of Wales, who lived with his wife Catherine of Aragon at Ludlow Castle and died in 1502 aged 16. Catherine later married Arthur's brother, later Henry VIII.
The gateway has heavy wooden doors, which were given in 1663 by Archbishop Juxon.
It was restored between 1931 and 1937, and later acquired the Son of Man statue. It is a most imposing structure in its own right.