Museum of Canterbury (Canterbury)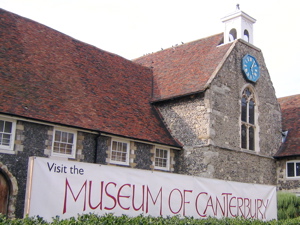 The Museum of Canterbury is one of the finest town museums in the country, and deals with the history of the historic old city of Canterbury in Kent.
Situated in Stour Street, it is housed in a mediaeval flint house which was the home of a notoriously greedy moneylender in the 12th century, before becoming the Poor Priests' Hospital, and later a workhouse and an orphanage.
The museum has won a number of awards for its "time-walk", following the history of Canterbury from the earliest settlements to the 20th century.
Among the exhibits are a gold pendant once worn by an Anglo-Saxon princess, and George Stephenson's locomotive Invicta, which worked on one of the first railway lines, from Canterbury to Whitstable.
And there is a display about Mary Tourtel, the Canterbury-born lady who created the much loved Rupert Bear.