Secrets of New Walk (A Guided Walk in Leicester)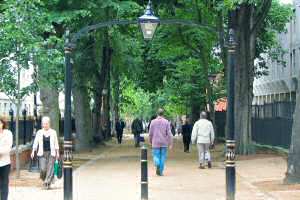 "Secrets of New Walk" is a very popular Guided Walk devised and led by the well known Blue Badge Guide Colin Crosby, of Colin Crosby Heritage Tours.
These strolls are an excellet way of soaking up some Local History.
The walk starts by the John Biggs Statue in Welford Place, Leicester, opposite the New Walk Centre, where Belvoir Street becomes Welford Road.
New Walk is a unique Georgian footway, originally constructed as a route from the town to the Racecourse, where Victoria Park is today. But its origins go back much further than that – it is on the line of the Roman road from Leicester to Colchester.
Colin will be pointing out many of the interesting sights along New Walk, including the New Walk Museum, whose architect was Joseph Aloysius Hansom, inventor of the hansom cab.
It has always been illegal to drive any vehicle along New Walk. In the early days, this posed problems for the well to do people who lived there – how to get their carriages to their houses? Colin will be explaining how.
Colin also leads another walk around the New Walk area, called "New Walk New Walk".
Dates, costs and where to meet
A place on 'Secrets of New Walk' costs £6.00 per person, or £5.00 if paying in advance. The guided walk begins at John Biggs Statue, and is running on:
I'm sorry, but there are no plans to run this event at present.
If you would like to book a place on one of these dates, please telephone Colin on (0116) 2611576 or email him at colin@crosbyheritage.co.uk.