John Biggs Statue (Leicester)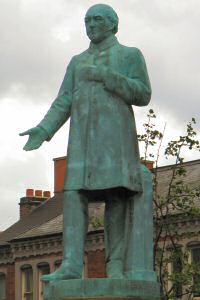 The John Biggs Statue is on the pedestrian refuge in Welford Place in Leicester, where Belvoir Street swings round to become Welford Road.
Welford Place is opposite the New Walk Centre, the main offices of Leicester City Council.
John Biggs and his brother, William Biggs, were 19th century hosiery manufacturers, who both became councillors and both also became Liberal Members of Parliament, John for Leicester and William for Newport on the Isle of Wight.
They were both involved in social reforms, and were instrumental in the creation of Welford Road Cemetery, opened in 1849 by William Biggs, who was Mayor at the time.
John Biggs was so loved by his workforce that after his death they contributed to the cost of the statue erected to him.
Unfortunately, this is not the original statue. That was demolished by a tram, and the present statue is a replacement.