New Walk New Walk (A Guided Walk in Leicester)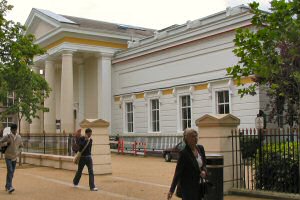 "New Walk New Walk" is a Guided Walk in Leicester, devised and led by the well known Blue Badge Guide Colin Crosby, of Colin Crosby Heritage Tours.
These strolls are a most enjoyable way of soaking up some Local History.
The walk starts beside the John Biggs Statue in Welford Place, opposite the New Walk Centre council offices.
During this walk, lots of interesting points are raised about New Walk, Leicester's unique Georgian footway, which was built on the line of the Roman road to Colchester. The buildings are elegant, it is lined with trees and it has always been illegal to drive any vehicle along the walk.
Also included is the Georgian new town that was added to Leicester in the early 19th century, with views of the prison, which is often mistaken for a castle, as well as the edge of Victoria Park, which was formerly used as a Racecourse.
Among the prominent buildings along New Walk are Holy Cross Priory Church and New Walk Museum, originally built as a school by Joseph Aloysius Hansom.
Colin leads another walk in the same area, entitled "Secrets of New Walk".
Dates, costs and where to meet
A place on 'New Walk New Walk' costs £5.00 per person, or £4.00 if paying in advance. The guided walk begins at John Biggs Statue, and is running on:
I'm sorry, but there are no plans to run this event at present.
If you would like to book a place on one of these dates, please telephone Colin on (0116) 2611576 or email him at colin@crosbyheritage.co.uk.