Holy Cross Priory Church (Leicester)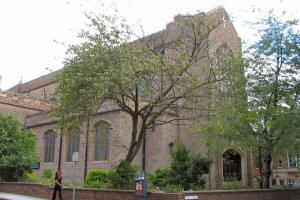 Holy Cross Priory is the oldest of the Catholic churches in Leicester.
Situated on the sublime New Walk, it is run by the Dominicans, or Black Friars, and was the first building to be constructed on New Walk after it was laid out as a pedestrian route to the racecourse, on the site of today's Hinckley.
The earliest part of the church was designed by Joseph Ireland in 1817. Joseph Aloysius Hansom, who invented the hansom cab while living at Hinckley, added the next part in 1848, and the main body of the church, by Young and Reid, dates from 1928.
Holy Cross runs beside New Walk and Wellington Street.
One of the halls is named Blackfriars Hall and another is St. Clements Hall. This refers to the fact that, when the Dominicans first arrived in Leicester in the Middle Ages, they were allowed to use the ruined St. Clements Church.