St. Stephens United Reform Church (Leicester)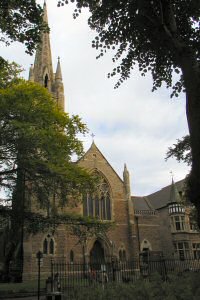 St. Stephens is a fine 19th century church in New Walk, on the corner of De Montfort Street and overlooking De Montfort Square.
It is particularly notable as being "the church that moved". It was originally built where Leicester Railway Station now stands, but when the present building replaced the earlier Campbell Street Station in 1891, the church was moved stone by stone to its present position.
The architect was James Tait, who also built a notable Sunday School centenary building, now a bar, in New Walk.
St. Stephens was a Presbyterian church, and became United Reform when the Presbyterians merged with the Congregationals.
The spire of St. Stephens, together with the trees in De Montfort Square and Robert Halls Statue, make a fine contribution to Leicester's townscape.
The many De Montfort names in Leicester refer to Simon De Montfort, Earl of Leicester, who briefly was effectively the ruler of England until defeated and killed at the Battle of Evesham.