St. Marks Church (Leicester)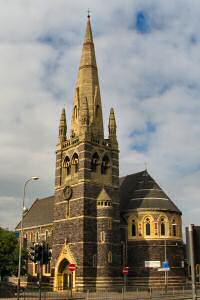 St. Marks Church was constructed in the 19th century on Belgrave Gate in Leicester.
The architect was Ewan Christian, and many of his admirers believe that St. Marks is his finest work. His best-known building is the National Portrait Gallery, round the corner from the National Gallery in London.
St. Marks was prominent in the Christian Socialism movement, and there are fine wall paintings.
The Jarrow Marchers stopped here on their way to London from the North East to protest about lack of jobs. They were each presented with new pairs of boots – there was still a hundred miles to go before they got to London.
St. Marks is now a redundant church – there is no natural Christian congregation in the area.
But after many years of standing idle, it has now been transformed into a banqueting centre.