Turkey Cafe (Leicester)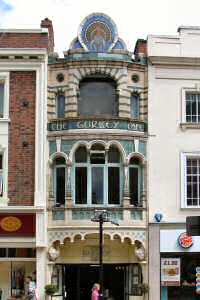 The Turkey Cafe is one of the very attractive Victorian buildings in Leicester City Centre.
It can be found in Granby Street, between Halford Street and Rutland Street, and opposite Bishop Street.
The architect was Arthur Wakerley, a Melton Mowbray man who became Mayor of Leicester. Among his other buildings in the city is the Singer Building in the High Street, and he was also responsible for the North Evington development.
The building contains a number of portrayals of turkeys, on either side of the entrance and in mosaic form on the top floor. It is also designed as a version of Turkish architecture, giving rise to thoughts of people drinking Turkish coffee, eating Turkish delight, smoking Turkish cigarettes and maybe even taking Turkish baths.
The Turkey Cafe is on the site of a cock pit, visited by James I.
Where is Turkey Cafe?
View a map showing the location of Turkey Cafe.
Press the 'Back' button on your web browser to return here.