Corn Exchange (Leicester)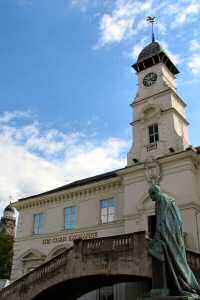 Leicester's Corn Exchange is situated in Leicester Market, which although basically an open market has been covered, and is now the largest covered market in Europe.
The Market Place is situated in the angle behind Gallowtree Gate and Horsefair Street in the City Centre.
There have been buildings on the Corn Exchange site since the early 16th century, when a building called the Gainsborough contained shops and a dungeon.
The present Corn Exchange was built in 1850, with William Flint as the architect. In 1856 F.W. Ordish added the upper storey and the curious external stairs.
Standing outside the Corn Exchange is the Duke of Rutland Statue.
Having stood derelict for a number of years, the Corn Exchange is now operating as licensed premises.
Where is Corn Exchange?
View a map showing the location of Corn Exchange.
Press the 'Back' button on your web browser to return here.