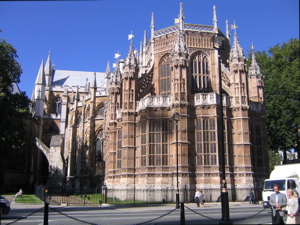 Mary I was Queen of England for a short period in the mid 16th century. She is often known as simply Mary Tudor or as Bloody Mary.
Mary was born at Greenwich Palace in 1516, the eldest surviving child of Henry VIII and his first wife, Catherine of Aragon.
She was styled Princess of Wales and sent to in this capacity to live at Ludlow Castle in 1525.
When Henry`s marriage to Catherine was declared void, Mary was herself declared to be ilegitimate, and her possible execution was discussed. Mary refused to believe herself illegitimate for the rest of her father`s life.
In his will, Henry recognised Mary`s right to succeed to the throne after his son Edward. However, after his own succession as Edward VI, Edward changed this in order to debar Mary and protect the fledgling Church of England.
Accordingly, on Edward`s death in 1553, his nominated successor Lady Jane Grey, of Bradgate near Leicester, was proclaimed Queen. But she did not receive public support, and after a truumphant entrance into London Mary, who had been at Framlingham Castle, replaced Jane, being crowned at Westminster Abbey.
She immediately set about restoring some of the old Catholic Bishops, but only hesitantly started to move away from Protestantism.
At her succession Mary was in her late thirties, and had never married. Indeed, some of the illnesses which she had inherited from her father rendered her physically unattractive.
It was, however, felt that marriage would be a good idea, and Mary`s choice fell on Philip of Spain, the son of Charles V, the Holy Roman Emperor, eleven years her junior and a widower. This was a most unpopular choice, with many believing that Philip would try to make England a mere dependancy of Spain.
A planned coup involving Sir James Crofts and Sir Thomas Wyatt was not well planned, and Wyatt`s rebellion in Kent was soon put down, with many of the ringleaders being executed, while Princess Elizabeth, Mary`s younger half sister, was implicated and confined for a short period in the Tower of London.
But the wedding went ahead as planned, at Winchester Cathedral in 1554. Philip was given the title King Consort.
Although Mary fell in love with Philip and believed that she would have a happy marriage, Philip was not interested. He returned to Spain in 1555, and only returned to England briefly. In the meantime, in 1556, he became Philip II of Spain after his father abdicated, and Mary became officially Queen Consort of Spain.
In 1554, Cardinal Reginald Pole, the Papal legate who later became Archbishop of Canterbury, announced that England was absolved of its sins in leaving the Chrch and was restored to the Holy See. A requirement of this was that all heretics were to be punished by being burned at the stake.
As a result of this, Mary (in her capacity as Bloody Mary) caused nearly three hundred victims to die in this way between 1555 and 1558. These included Hugh Latimer, Bishop of Worcester and Nicholas Ridley, Bishop of London, who were burned together at Oxford, and Thomas Cranmer, Archbishop of Canterbury, who died in the same way at the same place.
John Foxe of Boston recorded the burnings during Elizabeth`s reign in the famous "Foxe`s Book of Martyrs".
A further conspiracy was hatched against Mary in 1555 known as the Dudley Conspiracy after its architect Sir Henry Dudley. But it was discovered and the plotters escaped to France.
Towards the end of Mary`s life Philip convinced her and Parliament to join Spain`s war against France. This lost Calais, England`s last possession on the Continent.
Mary thought that she might be pregnant, but this turned out to be both wishful thinking and unrecognised stomach cancer, and she sank into an even deeper depression. She remarked "when I am dead, you will find Philip and Calais engraved upon my heart".
Mary died at St. James`s Palace in 1558, further weakened by influenza, and was buried at Westminster Abbey. She was succeeded by her half sister Elizabeth, having accepted shorthly before her death that this was inevitable.
Mary had no children.
Posted by colin on Thursday 22nd April, 2010 at 12:50pm