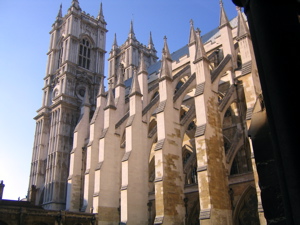 Henry III was King of England for a large portion of the 13th century.
The son of King John and Isabella of Angouleme, he was born at Winchester Castle in 1207.
He became King in 1216, when John died at Newark Castle, having famously lost the Crown Jewels in The Wash.
It would be difficult to imagine a worse time to inherit the crown. Not only was Henry only nine years old, much of the country was in open revolt, and London and the South East were under the control of the French Dauphin Louis, who had been invited by a number of barons to be King.
Luckily for Henry, the two most powerful magnates in the land, William Marshal and Hubert de Burgh, acted strongly on his behalf. They defeated the disaffected barons at Lincoln and in a naval battle off Sandwich, after which it was not difficult to bribe Louis to return to France.
In the meantime, Henry had a hurried coronation at Gloucester Cathedral, being crowned with his mother`s circlet instead of the lost crown.
Marshal died in 1219, having restored stability to the country, and in 1220 Henry, still only twelve, was crowned again at Westminster Abbey.
Over the next few years, some territories in France were lost, and Henry assumed regal control in 1227, with Hubert de Burgh continuing as Chief Justiciar until 1232.
An argument between Henry and de Burgh over available finance for overseas campaigns led to the latter`s disgrace and imprisonment.
The main power in the lands was now wielded by Peter des Roches, Bishop of Winchester, and Stephen Segrave. However, des Roches, who came from Poitou, filled the court with officials from his homeland.This naturally led to resentment, and a delegation forced Henry to expel des Roches, Segrave and officials.
But after Henry`s marriage to Eleanor of Provence at Canterbury Cathedral in 1236, he started to fill the court with people from France. This, however, led to a flowering of culture, in particular literature, including the updated French versions of the King Arthur and the Knights of the Round Table stories, and the building of beautiful churches and cathedrals.
Henry was always more interested in peace than war, and established an alliance with Scotland under the Treaty of York in 1237, later followed by a similar alliance with Wales through the Treaty of Woodstock. While this led to a reduction in border skirmishes, it gave the powerful marcher lords more time to indulge in politics.
In 1250 Henry took the Cross, intending to go on Crusade. But this never happened, and he used the money raised to support the Pope in a conflict in Sicily.
Opposition to Henry had been growing over the years, and in 1258 Roger Bigod, Earl of Norfolk, began to act as a spokesman for the barons. After a while Simon de Montfort, Earl of Leicester, came to the fore and led an armed revolt. He was married to Eleanor, the King`s sister.
Initially, Henry`s forces were successful, capturing de Montfort`s son Simon at the Battle of Northampton in 1264, but later the same year the King was captured at the Battle of Lewes.
From then on Simon de Montfort was effectively the ruler of England, with Henry and his family captive, for part of the time at Kenilworth Castle.
But in 1265 the King`s son Edward (later the redoubtable Edward I) escaped from custody and defeated de Montfort at the bloodbath known as the Battle of Evesham, after which parts of de Montfort`s body were sent to prominent people thoughout the land, including his widow.
Having returned to power, Henry began to show signs of senility, especially after the death of his brother Richard in 1272, and increasingly his son Edward took over the affairs of state.
Towards the end of his reign, however, he attended a sumptuous ceremony to celebrate the rebuilding of Westminster Abbey, including the shrine of Edward th Confessor.
Henry died at the Palace of Westminster in 1272, having reigned for a remarkable fifty six years, the longest reign of English monarch up to that point. He was buried in Westminster Abbey, and succeeded by his son Edward I.
Arrogant in the tradition of his family, he was nonetheless pious and willing to seek peace, and his reign saw a flowering of culture and the arts.
In addition to Westminster Abbey, buildings atarted or rebuilt in this period included Lincoln Cathedral, Peterborough Cathedral, Salisbury Cathedral, Wells Cathedral and the Great Hall at Winchester. He also brought in many exotic animals to his zoo at the Tower of London, and was the first King of England to use a number after his name, being styled on coins "Henricus Tertius".
Henry`s widow Eleanor became a nun at Amesbury Abbey in 1284. She died and was buried there in 1291.
The couple had nine children.
Edward, born at the Palace of Westminster in 1239, succeeded his father as Edward I.
Margaret, born in 1240 at Windsor Castle, married Alexander III of Scotland. She died at Cupar Castle in 1275 and was buried at Dunfermline Abbey.
Beatrice was born in 1242 at Bordeaux. She married John de Montfort, Earl of Richmond, and died in London in 1265. She was buried ar Reading Abbey and later removed to the Greyfriars near Newgate.
Edmund Crouchback was born in London in 1245. Having been nominated by the Pope as King of Sicily but later deprived of the Kingdom, he was created Earl of Leicester. Edmund married twice, firstly Aveline, Countess of Aumale, and secondly Blanche, daughter of Robert I, Count of Artois. He died in 1296 at Bayonne and was buried at Westminster Abbey.
Richard was born in 1247 and died in 1256.
John was born at Windsor Castle in 1250 and died in 1256, being buried at Westminster Abbey.
William was born in 1251, but died at birth. He was buried at the Temple Church off Fleet Street.
Katherine was born in 1252 at the Palace of Westminster. She was a mute child, and died at Windsor Castle in 1257, being buried at Westminster Abbey.
Henry died young, and was buried at Westminster Abbey.
Posted by colin on Wednesday 23rd July, 2008 at 4:45pm