Gloucester Cathedral (Gloucester)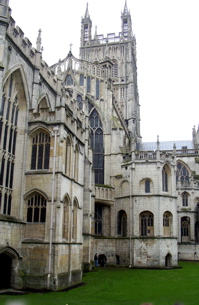 The Cathedral of the Holy and Indivisible Trinity at Gloucester is a magnificent religious building in the centre of this ancient city.
The first religious building on the site was a monastery founded by King Osric in 681, but the present building was founded in the late 11th century. Most of the building is Norman, apart from the splendid tower, which is Perpendicular.
Edward II was buried here in 1327, after his ghastly murder at Berkeley Castle. His son, Edward III, had a magnificent shrine built, and many pilgrims came to pay homage. This necessitated a great deal of reconstruction.
The Lady Chapel is a most attractive one, and the East window is one of the largest Gothic windows in the world. It is essentially a war memorial, commemorating those who died at Crecy and the Siege of Calais.
The Great Cloister has the earliest fan vaulting in the country, and has a very interesting lavatorium, where the monks would wash.
There is a splendid crypt, as well as two magnificent gateways.
The building functioned as the Benedictine Abbey of St. Peter until 1541, when it became one of Henry VIII's new foundation of cathedrals.
It was here that William I gave orders for the compilation of the Domesday Book.
Gloucester Cathedral is one of the hosts of the annual Three Choirs Festival, the others being Hereford and Worcester. It was used as a film set in 2001, for the blockbuster film "Harry Potter and the Philosopher's Stone".