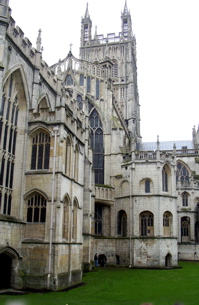 Edward II was King of England for twenty years in the early part of the 14th century.
Universally regarded as a weak king, he allowed himself to be led by favourites before eventually being forced to abdicate, and is chiefly remembered today for the ghastly manner of his death.
Edward was the son of Edward I and Eleanor of Castile, and was born at Caernarfon Castle in 1284 during one of his father`s Welsh campaigns. He was thrust very early into the limelight when his father presented him to the Welsh people as a baby - their new prince, born in Wales and unable to speak a word of English.
He was the fourteenth of his parents` nineteen children, but few lived to adulthood and he never knew most of them.
Edward`s only real childhood friend was the handsome but effeminate Piers Gaveston. As they grew up, it became apparent that their relationship was homosexual, and the king banished Gaveston from court.
When Edward I died in 1307, however, his son recalled his friend and they continued to scandalise the court with their behaviour. It also did not go down well when Edward left Gaveston as Regent when he went to France to collect his bride, Isabella of France, the daughter of King Philip IV. They were married at Boulogne in 1307.
Edward I`s coronation at Westminster Abbey was organised by Gaveston, and his over the top show of affection for Edward greatly distressed the young queen. As if this were not bad enough, he mismanaged the banqueting arrangements, leading to the meal being both late and badly cooked. Some of Edward`s cousins almost came to blows with Gaveston in the abbey.
A group of barons prevailed upon Edward to banish Gaveston, so he made him Regent of Ireland in 1308, but this did not last and he was soon back. Next Gaveston was made Lord of Man, but returned as brash as ever for the Christmas celebrations. This was too much, and a committee of barons, led by the powerful Thomas, Earl of Leicester, took over the government of the country in 1310.
They arrested Gaveston at Scarborough and beheaded him on Blacklow Hill outside Warwick in 1312.
Although this got rid of Gaveston, it was not universally popular and brought to the fore Hugh le Despenser, Earl of Winchester, and his son, also Hugh, who largely took over the position formerly occupied by the hated Gaveston. The younger Hugh became the king`s closest adviser in 1313.
Edward did decide that he should do something about Scotland, having been on expeditions with his father. He took an army across the border but soon retreated, leaving Robert the Bruce to consolidate his own position.
In 1314 Philip de Mowbray, Governor of Stirling Castle, the last Scottish castle in English hands, warned the king that he would surrender to the Scots if Edward did not come to his aid. Edward accordingly arrived with an army of twenty thousand men, outnumbering the Scots by two to one. Bruce had prepared the ground beforehand, with pits and boggy ground, and the Scots had a great victory, from then on known as Bannockburn.
Edward fled from the battlefield, at first unbelievably seeking refuge in Stirling Castle, but thinking better of it and escaping by way of Dunbar to London. Although Scotland`s independence was not formally recognised until 1328, it effectively dated from Bannockburn.
Things went from bad to worse, and there was almost a civil war between the Despensers and the barons under Earl Thomas. In Wales, the younger Despenser started to establish something of an empire, opposed by the Marcher Lord Roger Mortimer, who ran a similar empire. The Welsh themselves sided with Despenser, as they hated Mortimer more.
At this point, in 1322, Edward showed some decisiveness. He led an army against Mortimer, whom he captired and imprisoned in the Tower of London, and followed this up by leading an army against Thomas of Leicester, whom he defeated at Boroughbridge, having him beheaded at Pontefract. A cult grew up around Thomas, who became venerated in some quarters as a saint, but in a reign of terror his supporters were hanged in their own localities.
He led an army into Scotland, and got as far as Edinburgh before having to retreat, and was chased into York by the Scottish army.
Isabella, the queen, now became even more distant from Edward, and at the same time closer to Roger Mortimer, and the Despensers convinced Edward to deprive her of her estates. She went to France, with Edward`s consent, to open negotiations with her brother King Charles IV, as relations between the two countries were deteriorating.
However, once in France, she was joined by Mortimer, who had escaped from the Tower by drugging his guard. They now lived openly as lovers.
Isabella and Mortimer raised an army to depose Edward and put his young son, also Edward, on the throne. They sailed to England and landed at Harwich in 1326. Edward retreated to Wales, and was captured at Penrhys. He was held captive at Kenilworth Castle, and was treated considerately, his gaoler being Henry, the younger brother of the executed Thomas. Most of Edward`s closest supporters, including the Despensers, were rounded up and executed. The elder Despenser was hanged and beheaded at Bristol, while his son was savagely hacked to death in Hereford Market Place.
In 1327, Edward abdicated in favour of his son, who became Edward III, with Isabella and Mortimer as Regents. He was moved to Berkeley Castle.
Mortimer was afraid that there could be a rebellion in Edward`s favour, so arranged for his murder. He was held down, while a red hot poker was inserted into his bowels. Edward died in 1327. However, there is a story that he escaped from Berkeley, leaving a substitute to be murdered, and spent the rest of his life as a hermit.
Edward was buried at Gloucester Cathedral, where he has a fine tomb.
He was a cultured man, well built and handsome, a fine horseman, and with a keen interest in music and the arts.
Isabella, sometimes known as "the She-Wolf of France", acted as Regent until her son Edward III took control and had Mortimer executed. She was allowed to live in retirement, and died in 1358 at Castle Rising. She was buried at the Greyfriars Church at Newgate in London, but her tomb was lost during the Reformation.
Edward and Isabella had four children.
Edward, born at Windsor Castle in 1312, succeeded his father as Edward III.
John was born at Eltham Palace in 1316. He died in 1336 at Perth and was buried at Westminster Abbey.
Eleanor was born at Woodstock Palace in 1318. She married Regionald II, Count of Gueldres, in 1332, and died and was buried in Gueldres in 1355.
Joan was born at the Tower of London in 1321. She married David II of Scotland in 1328 at Berwick-upon-Tweed, and died at Hertford Castle in 1362, being buried at the Greyfriars Church at Newgate in London.
Edward also had an illegtimate son Adam, by an unknown mother, He was born in 1310 and died in 1322.
Posted by colin on Sunday 9th November, 2008 at 8:36pm