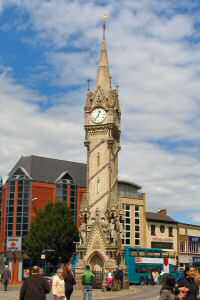 Brocks Hill Primary School at Oadby asked me recently to devise and lead a Guided Walk around the centre of Leicester for their pupils.
The children had been learning in particular about the Victorians, so I was asked to look particularly at the 19th century. Consequently, I adapted my popular "Victorian Leicester" walk.
Because of the number of children involved, I actually led the walk twice on the same morning, with a gap of a few minutes between.
Among other things, I showed the children the Town Hall, various symbols of Leicester including the wyvern, the former Midland Bank (HSBC) building in Granby Street with its stone monsters, the Thomas Cook Building, the Clock Tower and the celebrated Leicester Market.
It is very rewarding to work with children, and I am very happy to lead similar walks for other schools.
Posted by colin on Thursday 15th July, 2010 at 8:13am