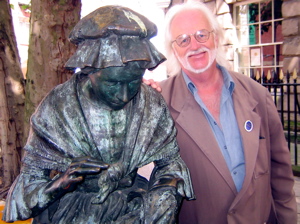 Saga Holidays have been arranging successful holidays in Leicester over the last few years, and I give a talk to those taking part early in the week.
Obviously I welcome them to this fine city, and also give them an idea of some of the interesting things to look out for.
The first week this Summer was held at John Foster Hall at the Leicester University Halls of Residence. This particular hall is a new one, having been opened in September of last year.
I gave the visitors a quick overview of the city - one of the oldest towns in England, as well as one of the largest cities in the land, and the birthplace of modern tourism.
I spoke about mediaeval churches, parks and museums, as well as touching on some of the excellent towns around Leicestershire, such as Loughborough, Melton Mowbray, Market Harborough and Market Bosworth.
It is always nice on these occasions to meet people who are visiting from all over the country, and this time I had the pleasure of chatting to visitors from Ashby-de-la-Zouch; Croydon; London; Newcastle-upon-Tyne; Southend; Stockport; and Taunton.
Posted by colin on Monday 18th August, 2008 at 8:59am