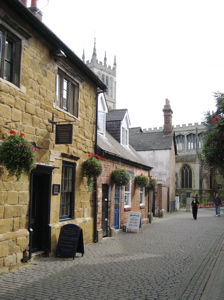 I led another of my morning Coach Trips recently, and I am glad to say that it went down as well as ever.
This time it was "Vale of Belvoir Tour", around the lovely area in the North East of Leicestershire, close to the borders with Lincolnshire and Nottinghamshire.
Having left St. Margarets Bus Station in Leicester, we travelled out along the picturesque Wreake Valley and through the fascinating town of Melton Mowbray.
Then I took the coach on a route that took in a good number of Leicestershire and Rutland villages, including Whissendine, Waltham-on-the-Wolds and Croxton Kerrial.
We always stop somewhere for the opportunity of coffee, tea, cakes etc, but at a place which is interesting in its own right.
This time it was the fairy tale Belvoir Castle, spectacularly placed on its hilltop with majestic views across a wide stretch of countryside.
After that, it was back to Leicester via the delightful villages of the Vale of Belvoir, including Granby, Long Clawson and Hose.
Morning trips in the coming year include "Northamptonshire Borders Tour" and "Richard III Tour", and the next full day excursion is "Chester", which includes a Guided Walk.
I keep a Visitors` Book which is made available to passengers on the Coach Trips. Comments this time included "thoroughly enjoyed the country views and especially Belvoir Castle", "thank you Colin for another lovely morning out", "the route taken shows what a beutiful country England is", "enjoyed your commentary" and "very enjoyable trip - great stop for coffee".
Posted by colin on Monday 10th November, 2008 at 9:03am