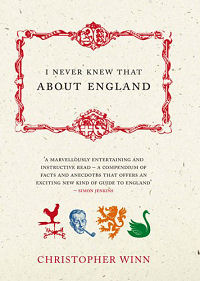 A recently published book that you might be interested in is called "I Never Knew That About England".
Penguin-size but in hardback, this fascinating little book is compiled by Christopher Winn.
Simon Jenkins is quoted on the cover as commenting "A marvellously entertaining and instructive read – a compendium of facts and anecdotes that offers an exciting new kind of guide to England."
Terry Wogan is quoted as saying "A treasure trove of unknown delights", and Gyles Brandreth says "I never knew there was so much I never knew!"
On the back cover we learn that "the first garden gnome in England appeared in Northamptonshire…. Leicestershire is home to the largest bell foundry in the world …. Cockayne Hartley in Bedfordshire is the last resting place of Peter Pan's beloved Wendy …. The world's first true aeroplane flight took place over Yorkshire."
The counties of England (pre-1974 counties, that is) are treated alphabetically, and within each county's entry there are lots of interesting facts. Some of them I knew already, and lots of others I didn't.
Leicestershire's entry includes, under Leicester, some of the story of Richard III, as well as Cardinal Wolsey, Thomas Cook and Joseph Merrick, the Elephant Man. It refers to the origin of "Painting the Town Red" at Melton Mowbray, to Handel composing the music for "The Messiah" at Gopsall near Market Bosworth, and to Thomas Babington Macaulay being born at Rothley.
The entry for Essex refers to Chelmsford as the home of radio, to the origin of the term "like Bilio" at Maldon, to the likely burial place of Harold II at Waltham Abbey and to Britain's first five-day working week at Marconi at Chelmsford.
Under Suffolk there's John Constable's birthplace at East Bergholt, the meeting at Bury St. Edmunds that led to the signing of Magna Carta, the production of the world's first motorised lawnmower at Ipswich and Newmarket's possession of the longest and widest horseracing straight in the world.
"I Never Knew That About England" is a smashing little book, and is available at all good bookshops.
Posted by colin on Saturday 11th February, 2006 at 8:10am