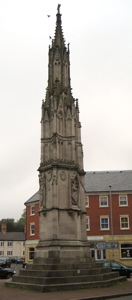 The Free Mystery Tour took place again recently. This annual event, which I have been running since 1995, is organised to celebrate International Year of the Tourist Guide, which aims to show that, wherever you go, you are always better off to be shown around by a Blue Badge Guide.
Some Guides organise Free Guided Walks, but all my career I have tended to do things a little differently, and what I organise is a Free Coach Tour.
As always, the coach left St. Margarets Bus Station in Leicester with lots of people on board. We travelled Southwards, skirting Lutterworth and Hinckley, and made our coffee stop at Cattows Farm at Heather, which boasts a farm shop and fine tea room.
We returned to Leicester by way of Ashby-de-la-Zouch and Charnwood Forest.
My Visitors` Book attracted comments such as "very interesting tour of Leicestershire", "I`ll look forward to next trip", "most enjoyable and informative", "must check diary and book more trips" and "very enjoyable day - very pleasant stop".
Posted by colin on Tuesday 9th March, 2010 at 1:00pm