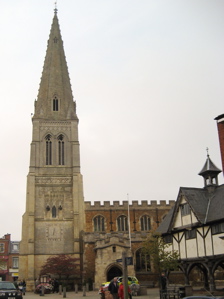 I recently took out a lucky coachful of people from the Leicester area on the annual "Free Mystery Tour".
I say lucky because they managed to get in and book in time to get a place. Being free, there is always a clamour for seats on this one, and this year there were no fewer than 167 people who were unable to get places.
But I think they all felt lucky because they thoroughly enjoyed the trip.
Once we had left St. Margarets Bus Station, I took the party down towards the valley of the River Welland, then through Market Harborough and up the ancient ridgeway to Melton Mowbray, giving a commentary as usual of course.
We made our stop for coffee at the splendid Stonehurst Farm in the historic village of Mountsorrel, and a good proportion of the party had a look at the animals and at the motor museum.
Then we went through Loughborough and across the picturesque Charnwood Forest, before returning to Leicester.
My Visitors` Book received such comments as "a fine trip out and fantastic driver and organiser", "a very enjoyable trip - lovely refreshment stop", "what a lovely way to spend a morning", "very interesting - lots of information", "seeing things you would not see in a car", "Mr Crosby was very interesting", "an X factor morning".
The next trips, for which at the moment there are still places, are "Northamptonshire Borders Tour", "Norwich" and "Maldon and the Dengie Hundred".
Don`t miss them!
Posted by colin on Thursday 5th March, 2009 at 9:28am