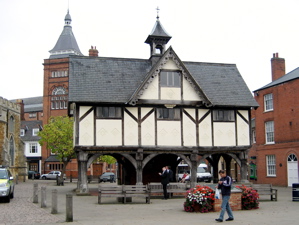 The "Free Mystery Tour", which I led again recently, was once again a huge hit.
This Coach Tour, which I have been organising since 1995, is to tie in with International Day of the Tourist Guide, and the purpose is to show that one is always better off visiting anywhere with a proper guide, preferably like me a Blue Badge Guide.
Each year Woods Coaches let me have a coach and driver free, and of course I organise and lead the event free.
The trip is different every year, but the coach always leaves St. Margarets Bus Station in Leicester at 9.30am and returns about 2pm. Passengers stay on the coach for most of the trip, but about halfway round there is a stop where tea, coffee, cakes etc can be bought. This is always somewhere interesting, such as a garden centre, museum, arts centre etc.
This year, having left the bus station, we travelled Southwards through the Peatlings and Lutterworth, then along to Market Harborough and the Langtons, viewing the deserted mediaeval village at Ingarsby before making our stop at the very popular Stonehurst Farm.
Then we made our way back to Leicester through Charnwood Forest.
My Visitors' Book has such comments as "thank you always enjoyable and interesting", "looking forward to many more", "well thought out places to stop and have a cup of tea", "very pleasant morning", "enjoyed the tour and a great coffee stop" and "it was a great morning".
If you have not been on a Coach Trip with me yet, perhaps it's about time you did!
Excursions coming up include "York", "Kent Tour", "Southwell and Newark", "Norfolk Lavender" and "Southend".
Posted by colin on Monday 10th March, 2008 at 11:21am