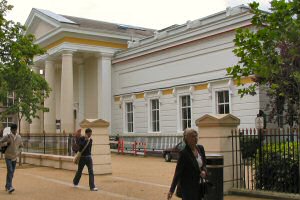 I had the pleasure of leading a private Guided Walk around New Walk, one of the loveliest parts of Leicester, during the Summer.
I was asked to organise this by Dave Boddice of Leicester 41 Club.
It was a version of my very popular walk "Secrets of New Walk", which shows this unique Georgian footway at its best.
Group members met me at the John Biggs Statue, and I gave a brief outline of New Walk's history. It was laid out in the 18th century as a pleasant route between the centre of Leicester and the Racecourse, which was then sited where Victoria Park is today.
But the line of New Walk is much older than that. It follows the route of the Roman road from Leicester, one of the oldest towns in Britain, to Colchester, which is the oldest.
It has always been illegal to drive any sort of vehicle along New Walk, which gave a problem to the well heeled people who lived here in the early days. What should they do with their carriages? I was able to give an explanation.
We looked at many of the walk's buildings, including New Walk Museum, and I pointed out that from near Victoria Park it is possible to see across to Charnwood Forest.
After the walk, the group were kind enough to invite me to have a meal with them at Flame, the splendid Chinese buffet restaurant in Granby Street.
I enjoyed their company!
Posted by colin on Thursday 1st November, 2007 at 8:18am