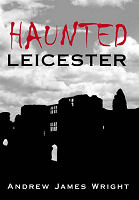 Visitors to Leicester from all over Europe recently enjoyed a walk around the Old Town and learned about some of the many ghosts who lurk in the area.
I arranged and led a version of my "Haunted Leicester" walk for D.C.E.Donaldson Ltd of Thurmaston.
This was arranged with the company's John Mearns and was a treat for the visitors, who were in Leicester for training.
They saw St. Mary de Castro Church, Leicester Castle, the Turret Gateway and the Guildhall, and heard the story of the terrifying Black Annis.
I feel very privileged to be able sometimes to show visitors to Leicester what an interesting and historic city it is.
Posted by colin on Sunday 27th November, 2005 at 10:09am