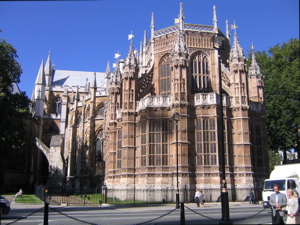 My recent Saturday with Guided Walks in London went very well indeed.
Twice a year, in Spring and Autumn, I go to London and lead two different walks on the same day. These are always at 1pm and 5pm, giving me a little time between walks to go and have a coffee.
The walks always attract enthusiasts from both the Leicester area, where I live now, and from the Southend area, where I come from, as well as some from London itself.
This time, both walks were new ones.
"Waterside London" is the capital city version of the very popular Waterside Walks which I run as a season every year in the Leicestershire area, including "Waterside Leicester" and "Waterside Market Harborough".
Starting outside St. Pauls Cathedral, we strolled along the North bank of the River Thames and crossed over London Bridge. Then, having gone down Nancy's Steps, it was back along the South bank of the Thames, passing Southwark Cathedral, Shakespeare's Globe and the Tate Modern.
Then it was back over the Wobbly Bridge (which I should really refer to as the Millennium Bridge) and back to St. Paul's. The views along the river, especially from the bridges, are fantastic.
"Haunted Westminster" is another of my Haunted Walks, among which are "Haunted Leicester" and "Haunted London".
We started outside the National Gallery, and made our way down to the Embankment, then past Westminster Abbey towards St. James's Park.
Having got away from the crowds, the atmosphere around the Royal parks and palaces is a very eerie one indeed.
As with all my Guided Walks and Coach Trips, I am available to lead either of these walks specially for your group. Just get in touch and we can discuss it.
Posted by colin on Friday 28th December, 2007 at 9:35am