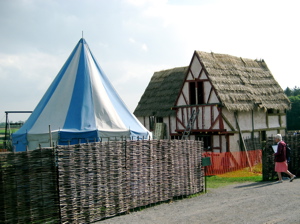 A very useful book for those with an interest in English history and its places is "English Battlefields", by Michael Rayner.
Subtitled "500 Battlefields that Shaped English History", it was published in 2004 and has a foreword by Richard Holmes.
Holmes himself is quoted on the dustjacket as saying "A painstaking survey of English battlefields ... expunges myths, illuminates facts, and puts these haunted acres into their proper context. A first-rate book".
The listing is alphabetically by place name. At the start there are maps, showing the location of each battle. All that is missing, from my point of view, is a chronological listing of the battles, which would help to give an overview and put the various battles into context with each other.
Some of the entries are quite long. These of course deal with some of the best known battles in English history, such as the Battle of Hastings of course, but also those, for example, at Market Bosworth, Naseby, Maldon, Marston Moor, St. Albans and Tewkesbury.
But there are others that are quite short, involving for example Civil War skirmishes, sieges of towns and castles, and Viking raids.
Dipping into the book, we can read about the Battle of Ashingdon (two miles from where I was born at Rochford) in 1016, which resulted in the partition of England between Edmund Ironside and Cnut.
The Battle of Mount Badon took place, if it did at all, somewhere between 490 and 518. Certainly a British warlord, who has been romanticised as King Arthur, fought a number of battles against the English which delayed their takeover of the country. The location is not known, but Bath seems a likely site.
In a skirmish at Cirencester in 1400, a rebellion against Henry IV by the Earls of Kent and Salisbury ended with their beheading in the Market Place. Henry rewarded the town, which led to the magnificent St. John the Baptist Church being greatly extended.
The Battle of Dyrham in 577 resulted in a significant victory for the men of Wessex, involving their capture of the three Romano-British cities of Bath, Cirencester and Gloucester.
It's a fascinating book.
Posted by colin on Sunday 29th April, 2007 at 11:13am