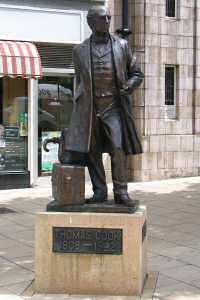 A little known fact indeed is that Thomas Cook's second-ever trip was from Leicester to Mountsorrel.
It is generally known in Leicestershire, if not around the world, that the first excursion organised by this extraordinary man was from Leicester to Loughborough in 1841.
The purpose was to visit a Temperance tea party which had already been organised in Loughborough. Having been asked to publicise this, he hit on the idea of hiring a train at Kibworth, while walking from Market Harborough to Leicester.
This historic event led to not only the formation of his own famous Thomas Cook travel company, but to mass tourism – Blue Badge Guides, Woods Coaches, Butlins Holiday Camps, Saga Holidays, Colin Crosby Heritage Tours etc etc.
But not many people, even in Mountsorrel, know that his second trip was to this historic village between Charnwood Forest and the River Soar.
The group set off from Leicester by train and alighted at Sileby. From there, they walked across the fields and over the river to Mountsorrel, where they had a picnic.
Although there was a huge collection of pubs in Mountsorrel (excavating the famous Mountsorrel granite must have been very thirsty work), there was a strong Temperance movement in the village. The old Temperance Hall is still there, now converted to a private dwelling.
There was an annual Temperance event in Mountsorrel, to which thousands of people would come and sign the pledge.
But, strangely, the publicans always reckoned that this was the busiest day of the year for them – something wrong there, surely.
Posted by colin on Friday 18th November, 2005 at 9:15am