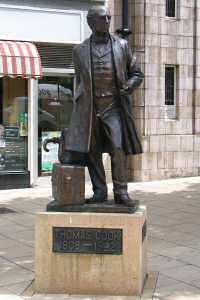 Everyone has heard of Thomas Cook. But people outside Leicestershire are mostly unaware that he was, in a very real sense, the founder of modern tourism.
He organised a trip from Leicester to Loughborough in 1841, which was the first excursion for which the public could buy tickets.
But even Leicestershire folk are by and large unaware of the reasons for the trip.
Thomas Cook was born at Melbourne in Derbyshire, and after living for a while at Barrowden in Rutland he settled in Market Harborough.
He was a Baptist and a leading member of the Temperance movement. When his colleagues on the county Temperance committee organised a tea party at Southfields in Loughborough, they asked Thomas, whom they knew to be an astute businessman, to come up with ideas for its promotion.
One day, Thomas was walking the fifteen or so miles from Market Harborough to Leicester, where he was going to attend a meeting. About halfway, he passed the Congregational chapel at Kibworth Harcourt, and it was here, he later recorded in his diary, that he had a brainwave.
His idea was to use the newfangled railway system for his own social ends. He asked the railway company if they would let him hire a train, and although the company were at first sceptical, they agreed to a deal.
The rest, of course, is history.
The original idea was not, of course, to make money, but Thomas soon saw the commercial possibilities and began his highly successful professional career.
But 1841 was a very significant date in tourism history. Without the trip to Loughborough, there would be no Blue Badge Guides, no Saga Holidays, no Butlins Holiday Camps etc etc.
Thomas Cook moved to Leicester, where he had a house built in Stoneygate (it's now the Red Cross headquarters). He is buried in Welford Road Cemetery.
In 1991, to mark the 150th anniversary of the trip, the Thomas Cook Statue was unveiled outside Leicester Station.
Posted by colin on Friday 14th October, 2005 at 9:05pm