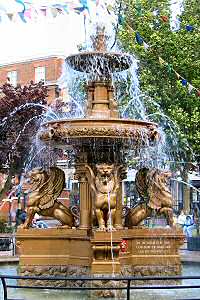 Once again on Good Friday, Leicester City Centre was the setting for "Christ in the Centre".
Since 2003, this has taken place around the pedestrianised streets of what is one of the oldest towns in the country.
It takes the form of a re-enactment of the last day in the life of Jesus Christ, involving his arrest, trial and crucifixion, and forward to resurrection. It is performed by actors from the Sword Theatre Company of Kibworth.
Once again, thousands of people watched, and followed the action around from Leicester Cathedral via Town Hall Square and Gallowtree Gate to its climax in Humberstone Gate, making it the biggest open air Good Friday event in the country.
I'm sorry to say that for the first time I missed most of it, as I had to stay in to deal with a repair man.
Posted by colin on Saturday 7th April, 2007 at 6:04pm