Humberstone Gate (Leicester)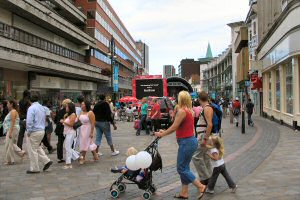 Humberstone Gate is one of the major streets in Leicester City Centre, running Eastwards from the Clock Tower.
The word "Gate", common in Leicester and other East Midlands towns such as Loughborough, Derby, Nottingham and Newark, has nothing to do with gateways. In fact it is an old Danish word which simply means "street". Leicester and those other towns were under Danish control more than a thousand years ago.
Humberstone Gate simply means "the street leading to the old village of Humberstone".
The first part of Humberstone Gate is now pedestrianised, and is sometimes used for events. For example, for a couple of years there was an ice skating rink just before Christmas, and there are fairground rides at holiday times.
Both sides have High Street shops. On the North side is the Haymarket Shopping Centre, opened in the 1960s, and opposite is a new complex opened in the 1990s on the site of Lewis's department store. This has retained the landmark tower from the old building.
A little further out, across Charles Street, is the Secular Hall, the only purpose-built one outside London.
Joseph Merrick, universally known as "The Elephant Man", was born in Leicester. He told people that his mother was, while expecting him, frightened by an elephant at the annual fair in Humberstone Gate.