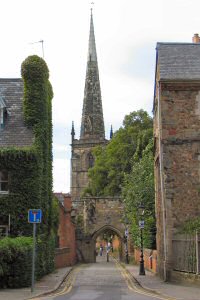 A Young Farmers branch enjoyed an eerie night in Leicester City Centre and Old Town recently.
Lutterworth Young Farmers accompanied me on their own private "Haunted Leicester" walk.
This walk takes participants around the lonely streets of Leicester`s half forgotten Old Town, where many ghosts are said to lurk.
Leicester is one of the oldest towns in the country, and the ghostly population has had two thousand years to become established.
Along the way, in addition to hearing tales of hauntings and of the terrifying Black Annis, they saw some of Leicester`s most picturesque spots, including St. Mary de Castro Church, John of Gaunts Cottage and the Turret Gateway.
Many groups have enjoyed their own "Haunted Leicester" walk. If you would like this to apply to your own group, you are very welcome to get in touch.
Posted by colin on Friday 1st May, 2009 at 8:01am