High Cross Street (A Guided Walk in Leicester)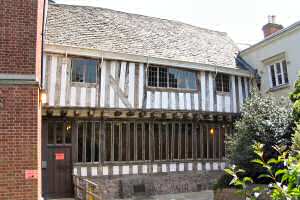 "High Cross Street" is one of the fascinating Guided Walks in Leicester devised and led by the well known Blue Badge Guide Colin Crosby.
These gentle strolls are an enjoyable way of soaking up some Local History.
"Highcross" is the name of the acclaimed shopping centre opened in 2008, as an extension to The Shires.
When the name was announced, an amazing number of Leicester people felt that the name had no local historical significance. This walk will prove otherwise.
The walk starts by the Cathedral Fountain.
Colin will lead participants along High Cross Street, the mediaeval High Street of Leicester, revealing the sites of the original High Cross; the inn where Richard III spent his last night in a bed; the prison where Daniel Lambert was the gaoler; and the North Gate.
He will also point out the 15th century timber framed Wygstons House; the Elizabethan Free School; and the Norman All Saints Church, as well as the superb shopping development.
Dates, costs and where to meet
A place on 'High Cross Street' costs £4.00 per person, or £3.00 if paying in advance. The guided walk begins at Cathedral Fountain, and is running on:
I'm sorry, but there are no plans to run this event at present.
If you would like to book a place on one of these dates, please telephone Colin on (0116) 2611576 or email him at colin@crosbyheritage.co.uk.