Happy New Year (A Guided Walk in Leicester)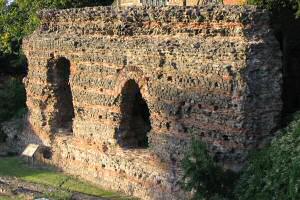 "Happy New Year" is one of many Guided Walks in Leicester devised and led by the well known Blue Badge Guide Colin Crosby, of Colin Crosby Heritage Tours.
These walks are an easy and enjoyable way of soaking up some Local History.
Taking place on New Year`s Day, "Happy New Year" gives the chance to have a stroll around an otherwise busy city when there are few people about.
The walk starts outside Vaughan College, near the celebrated Jewry Wall Museum in the City Centre.
Colin leads the party on a gentle stroll looking at the best of Leicester`s Old Town, as well as recent multi-million pound developments.
Participants will see such ancient buildings as the Jewry Wall, St. Mary de Castro Church and the Turret Gateway, as well as viewing the fabulous Highcross Centre, opened in 2008.
Dates, costs and where to meet
A place on 'Happy New Year' costs £3.50 per person, or £2.50 if paying in advance. The guided walk begins at Vaughan College, and is running on:
I'm sorry, but there are no plans to run this event at present.
If you would like to book a place on one of these dates, please telephone Colin on (0116) 2611576 or email him at colin@crosbyheritage.co.uk.