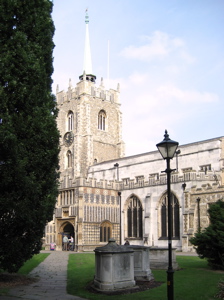 I took part in an excellent familiarisation day recently entitled "Whistle Stop Tour of Essex", designed to show group organisers some of the great places they can bring parties to.
It was arranged, and very well arranged indeed, by Carol Jolly of Essex Tourism Association.
I spent most of the day in the enjoyable company of Chris Wales, the Chief Executive of the Coach Touring Council and trade magazine columnist. Chris himself, like me, is a good Essex boy.
I also spent some time with Peter Stonham, publisher of "Group Travel Organiser" magazine, and on the coach were representatives of Essex towns and hotels.
The party met in the coach park at the Braintree Freeport shopping mall, and after Carol had given out goody bags, with the thoughtful inclusion of bottles of water, we set off on our tour.
Our first stop was Castle Hedingham, where after a coffee and cake we boarded a steam train on the Colne Valley Railway. The trains run for only a short distance in either direction, but the enthusiastic staff pointed out that the shortness of the ride can in fact be a boon when there are potentially bored young children on board.
From there, we moved down to the ancient town of Colchester, where a local Blue Badge Guide gave us a quick tour of Colchester Castle and its grounds.
Then it was on to Tiptree, for a visit to Wilkins` famous jam factory, and a sampling of the sort of cream tea that is so popular. But we didn`t just sample the famous Tiptree jam. It was even more special than that. We were able to sample the exquisite Little Scarlet, which according to Ian Fleming was James Bond`s favourite jam.
On we went from there to Chelmsford, and a brief tour of Hylands, the very fine 18th century mansion in its extensive park. We had lunch at the restaurant here.
Next stop was Billericay, where just outside the town we visited Barleylands Farm Centre, a mixture of farm and craft centre.
Finally we went to Kelvedon Hatch, for a tour of the Secret Nuclear Bunker, hidden under an innocuous looking bungalow deep in the woods. It was here that government was to be centred in the event of a nuclear war. We were given refreshments here too.
It was a truly excellent day, fitting in a lot in such a short time. I would like to say a big thank you to all the venues that we visited, and to Carol for organising the day.
Posted by colin on Sunday 16th August, 2009 at 9:17am