Chelmsford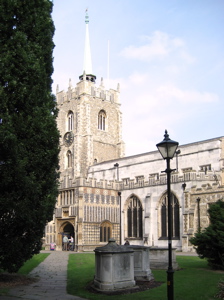 Chelmsford is the county town of the historic county of Essex.
Set right in the middle of the county, Chelmsford can be reached from all its corners with ease, so is a pretty good choice for county town.
There was a small Roman town here, on the Great Road which ran from London to Colchester. The town's name was Caesaromagus, and it was the only British town to be named after Caesar.
But today's Chelmsford derives from a new town planned in 1199 by the Bishop of London.
The Shire Hall, in the City Centre, was designed in 1792 by John Johnson, the Leicester-born architect who spent most of career as County Surveyor of Essex.
Nearby is the 18th century Saracen's Head Hotel.
Chelmsford Cathedral is the former parish church of Chelmsford. John Johnson redesigned the church in 1800, after much of it had collapsed. It became a cathedral in 1913.
Chelmsford is very much bound up with the history of radio. Guglielmo Marconi set up the first wireless factory here in 1898, and the first radio programmes were broadcast from here in 1920.
Other industrial claims to fame are the production of the world's first electric toaster and Britain's first five day working week.
The novelist Ursula Bloom was born at Chelmsford.
Chelmsford is the headquarters of the very successful Essex County Cricket Club.
Blue Badge Guide Colin Crosby is available to lead Guided Walks around Chelmsford for groups.