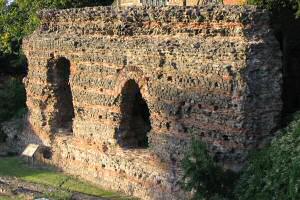 I was delighted recently to be able to show a group from Georgia in the United States some of the historic highlights of Leicester.
Karen Ferrell-White and her party were on a tour of the United Kingdom, visiting some of the finest cities in the country, and asked if I could show them historic highlights of Leicester, which is (after Colchester) one of Britain`s oldest towns as well as being one of the most populous cities in the land.
I gave them a version of my Guided Walk "Historic Leicester", a stroll through two thousand years of history.
In addition, I arranged for St. Nicholas Church to open especially for the group, and I showed them aspects of this ancient place of worship. I also arranged for St. Mary de Castro Church to open for the group, and again interpreted many of the fascinating aspects of this church.
And I took them into Leicester Cathedral, which is normally open anyway, and showed them the highlights there.
I was delighted to be able to show off this wonderful city right in the centre of England, and hope that Karen and her friends will take back positive thoughts about Leicester.
If you would like me to show your own group around Leicester, feel free to get in touch.
Posted by colin on Thursday 29th March, 2012 at 9:24am