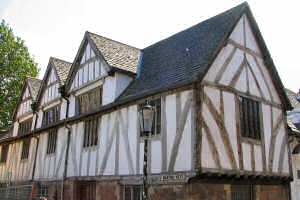 I am often asked to give talks to groups, and am always happy to do so.
Over the years, I have delivered talks to antiques groups, church groups, gardening clubs, historical societies, Probus Clubs, Rotary Clubs, Round Tables, Townswomen's Guilds, U3As and Women's Institutes. That's just some of the ones that spring to mind.
Occasionally, a group wish me to give a talk but are not sure about which subject they would like.
This might help. I have compiled a list of the most requested talks, and here is the Top Ten.
1. Adventures of the Bearded Cinema Manager. An account of my early career in the entertainment industry, involving glamour, humour and lots of long hours and hard work. I became a Trainee Manager in 1963 and was apointed as Britain's youngest Manager in 1966 at 23.
2. Introduction to Leicestershire and Rutland. Particularly popular with groups visiting the area or considering doing so.
3. Places of Interest in Leicestershire and Rutland. Especially useful for the newly retired or those about to retire. I show that there are plenty of interesting things to do locally without breaking the bank.
4. Leicester's Place in English History. This talk seeks to show that throughout the last two thousand years, Leicester, one of England's oldest towns, and the surrounding area have been at the forefront of national events.
5. Leicestershire Legends and Traditions. Traditions whose origins are sometimes lost in the mists of time, including the Hare Pie Scramble and Bottle Kicking at Hallaton, the Damask Rose Ceremony and the Whipping Toms, as well as stories involving King Lear, John of Gaunt, Richard III and the terrifying Black Annis.
6. Ding Dong Merrily On High. Also a popular Guided Walk. The background to everybody's favourite Christmas carols. Some were written by famous composers or poets, some refer to oscure legends and some were written under unusual circumstances.
7. The Holly and the Ivy. Also a popular Guided Walk. A look at some of the Christmas customs which we all know and love, particularly those which have no real connection with this Christian celebration, but which have been added. These include Christmas trees, Christmas cards, Christmas crackers, mince pies, holly and mistletoe.
8. Essex - the Land of My Birth. Essex is an extraordinarily historic county. Colchester is the oldest town in the land, and was not only an important Roman town but the capital of civilised Britain even before the Roman invasion. The name refers to its being the Kingdom of the East Saxons, one of whose towns was London. With lovely old towns such as Maldon and Saffron Walden, and many ancient churches including those at Bradwell-juxta-Mare and Greenstead-juxta-Ongar, Essex is a hugely historic entity.
9. Haunted Leicester. Also a very popular Guided Walk, this investigates the lonely streets of Leicester's half forgotten Old Town, where many ghosts are said to lurk.
10. Dionysius, Hardulph and Egelwin - Church Dedications of Leicestershire and Rutland. In addition to the usual Johns, Marys and Peters, there are some very unusual dedications. This talk explains who some of these saints were.
Feel free to get in touch if you would like me to give a talk on any of these subjects. And if you fancy something different, I have a wide repertoire!
Posted by colin on Wednesday 21st March, 2007 at 9:29am