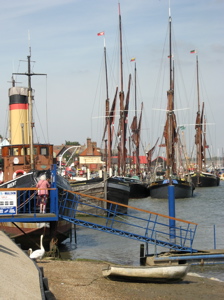 I went on a Coach Trip recently with Woods Coaches of Leicester, which had the evocative title "The Gentle Uplands of Essex".
I always enjoy going on other people`s trips. It`s a good way for me to relax, knowing that all the decisions are going to be made by somebody else! And I am very well aware that Woods are a fine company. After all, I hire coaches from them for my own excursions.
An added bonus this time was being able to visit the beautiful county of Essex, the land of my birth.
We left St. Margarets Bus Station and followed main roads to the South East, making a coffee stop at Cambridge Services.
Then we entered Essex, travelling through such delightful places as Sible Hedingham, Halstead, where I was once the cinema manager, and Earls Colne.
We visited Colchester, the oldest town in Britain, which still retains much of its Roman Walls and where Colchester Castle has the largest Norman keep ever built. I had a coffee at the excellent department store Williams and Griffin.
From there we moved to Maldon, the salty maritime town where All Saints Church in the town centre has a unique triangular tower. I walked out through Promenade Park to see the new statue of Earl Britnoth.
Then it was on to Tiptree, to partake of a cream tea at the tea shop in Wilkins` jam factory.
On the way back, we stopped again at Cambridge Services.
It was great to be in this lovely county again, even if only for a few hours.
Posted by colin on Monday 22nd June, 2009 at 8:00am