Promenade Park (Maldon)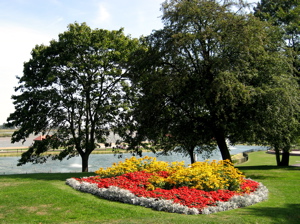 Promenade Park is a lovely park in the maritime Essex town of Maldon.
It is loved by countless Essex families, and has been a place for family visits for years, especially at Bank Holidays.
Reached from the bottom of the town's historic High Street, it is actually in what was originally the separate settlement of The Hythe.
It has lovely gardens, walks, amusements, and a miniature railway, as well as a large pool.
One of the borders of Promenade Park is the sea wall, beside the estuary of the River Blackwater. One can walk down the estuary from here to the site of the Battle of Maldon, where Ealdorman Britnoth lost to the Danish forces of Olaf Trygvasson in 991.
Also in the park is the town museum, and just outside is St. Mary's Church, which features in the best known views of Maldon.
The town's coach park is at the main entrance to Promende Park.