All Saints Church (Maldon)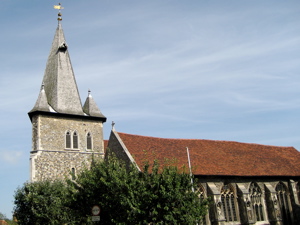 All Saints Church is the town centre parish church of the delightful Essex town of Maldon.
The church is unique, in that it has a triangular tower. This dates from the 13th century, and there is much more of the church that is mediaeval, including a splendid South aisle.
A set of statues on the church wall facing the street includes Britnoth, the Ealdorman of Essex who died defending England from the Danes at the Battle of Maldon in 991.
There is a memorial to Lawrence Washington, the 17th century Rector of the nearby village of Purleigh. He was the grandfather of George Washington, the first President of the United States.
All Saints is the starting point for the Guided Walks in Maldon devised and led by Blue Badge Guide Colin Crosby.
All Saints Church (Maldon) is the starting point for...