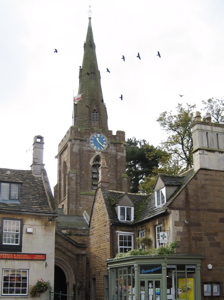 On Easter Day, I took a party on a Coach Tour around the tiny but picturesque county of Rutland.
It was a party from Solos Holidays, who were spending the weekend at the recently opened Marriott Hotel on the outskirts of Leicester. Sunday was earmarked for a Rutland Tour.
I took them first through the leafy lanes of High Leicestershire, where there are more sheep than people, pointing out the spectacular deserted mediaeval village of Ingarsby.
A stop at the little county town of Oakham gave the chance to get a cup of coffee and to see Oakham Castle and the Butter Cross.
Then I took the coach around the North and South shores of Rutland Water, stopping for a look at the rare turf maze at Wing.
After that it was a stop at Rutland's other market town, Uppingham, where most of the group took advantage of the tea garden at Rutland Antiques, as well as having a look at St. Peter and St. Paul Church and the elegant stone buildings around the Market Place.
On the journey back to Leicester, we traversed more quiet countryside, including the pretty village of Hallaton, which was getting ready for its unique annual event, the Hare Pie Scramble and Bottle Kicking, scheduled as always for Easter Monday.
It's always a pleasure for me to able to chat to people from other towns, and this party included people from Bromley; Manchester; Peterborough; Queen Camel; Sheffield; Shrewsbury; and Sutton Coldfield.
Posted by colin on Thursday 12th April, 2007 at 10:12pm