St. Peter and St. Paul Church (Uppingham)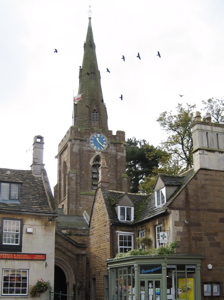 St. Peter and St. Paul is the parish church of the elegant old market town of Uppingham in Rutland.
This is a very unusually situated church, being entered directly from the Market Place. But while the North side is unequivocally in the heart of the town, the South side looks towards the open country.
There is a tower dating from the 14th century, and on top of this is a tall spire with lucarnes.
The treasures of this church are its four rare Norman demi-figures, on the walls. These represent Christ giving a blessing, a saint who is also giving a blessing, and two angels.
Jeremy Taylor, who was chaplain to Archbishop Laud and then to Charles I, was the Rector here from 1638. He later became a Bishop. His beautifully carved Elizabethan pulpit is still in use.
In the churchyard is the original building of Uppingham School, founded in 1584, and also in the churchyard is the fine memorial to Dr. Edward Thring, who converted this small town school into one of the leading public schools in the land.