Market Place (Uppingham)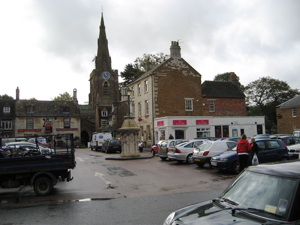 The Market Place at Uppingham is one of only two market places in the tiny county of Rutland, the other being at Oakham.
It is situated in the centre of the town, off High Street East.
Around the Market Place are some elegant stone buildings, which hark back to an almost-vanished England.
The parish church, unusually, is reached directly from the Market Place, and in the churchyard is the original 16th century building of Uppingham School.
The Market Place is the starting point for Colin Crosby's Guided Walks around the town. Those wishing to take part should meet outside the HSBC Bank.