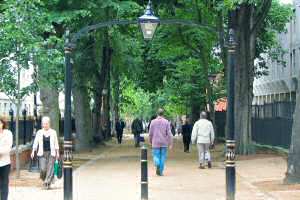 I recently led my Guided Walk "Secrets of New Walk", at the invitation of Leicester City Council, who wanted to give citizens more access to their own history.
I showed participants this unique Georgian footway, constructed to give well-heeled visitors a way of walking from the town to the racecourse, at that time sited where Victoria Park is today.
The history of New Walk, though, goes back much further than that. It is on the line of the Roman road from Leicester (one of the oldest towns in the country) to Colchester (the oldest town in the country).
Along the way are three deliberately planned open spaces, and the splendid New Walk Museum, designed by Joseph Aloysius Hansom, creator of the Hansom cab.
I in fact led this walk twice, on the Thursday evening then again on the Friday lunchtime.
I am very happy to lead this walk, or any other, for your own group. Do get in touch.
Posted by colin on Friday 16th November, 2012 at 9:40pm