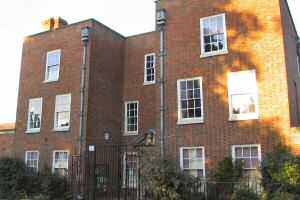 I gave a talk recently for members of the Mothers Union at St. Alban's Church in Belgrave.
St. Alban's is one of the churches that make up the Parish of the Resurrection in Leicester.
The talk requested was "Old Belgrave". As it happens, I lead a Guided Walk with the same title.
I gave an overview of the history of this Leicester suburb, which was for centuries a country village.
I spoke about the origin of the village's name - the factual explanation and also the fanciful one.
I explained that the very old bridge on Thurcaston Road may include some Roman masonry, as a minor Roman road crossed the River Soar at this point.
And I explained why the same road is part of a mediaeval route between Stoughton Grange and the powerful Leicester Abbey.
Then of course I spoke about the historic buildings in the area, notably St. Peters Church, Belgrave, Belgrave Hall and Belgrave House.
Everybody went away with a new insight into Old Belgrave, and I enjoyed the visit.
Posted by colin on Wednesday 16th January, 2008 at 8:22pm